Steers Insurance
Wheels TV, Socials, and Web
The Steers Insurance "Wheels" concept is a strong example of how big-picture strategy and creative, along with technological advances, are driving how we approach fully integrated marketing for our clients.
Project
Steers has long featured local customers, clients, and people in their ads. As they're a locally owned, province wide company, we wanted to keep that element, but it was time for a new website and new creative concept. The wheels creative easily travels to the many tactics in the overall marketing plan including website and social media content, TV ads, direct mail, Google Ads, YouTube pre-roll ads or trade show materials.
Challenge
Most people would probably admit they don't think about insurance all the time. However, we do think about the things we want our insurance to protect all the time. These things are everything to us – from the people we love, to our homes, our weekend toys, and our pets. So the WaterWerks team started thinking about those moments. The big life moments. What are they? Which ones connect to insurance? And what was the common thread? That thinking led to the creation of the wheels campaign.
Solution
Wheels carry us through the moments in our lives. Big and small. Marriage, new baby, new car, teenage driver. So we wanted Steers clients to know wherever their wheels take them, Steers is with them. We created two TV commercials and tied the concept into a moments interface on the Steers website. The individual moments footage from the TV ad was edited to create shorter pieces for Google Ads and pre-roll ads on YouTube. Each ad tied back to a particular line of business to promote the diversity of the product lines Steers Insurance has to offer as an insurance broker.
Places
The first ad focused on how wheels take us to the places we want to go. The spot features faces and places from all over the province and reminds customers that, wherever your wheels take you, we're with you
Moments
The second ad in the campaign again features faces and places from Newfoundland and Labrador but the script focuses more on the moments than the places. From first love to first steps.
Website Feature: Moments Interface
A new interactive section on the home page replaced outdated sliders and engages the user by asking: what's happening in your life? This interface helps us meet the customer where they are in their life's journey and really personalizes the user experience.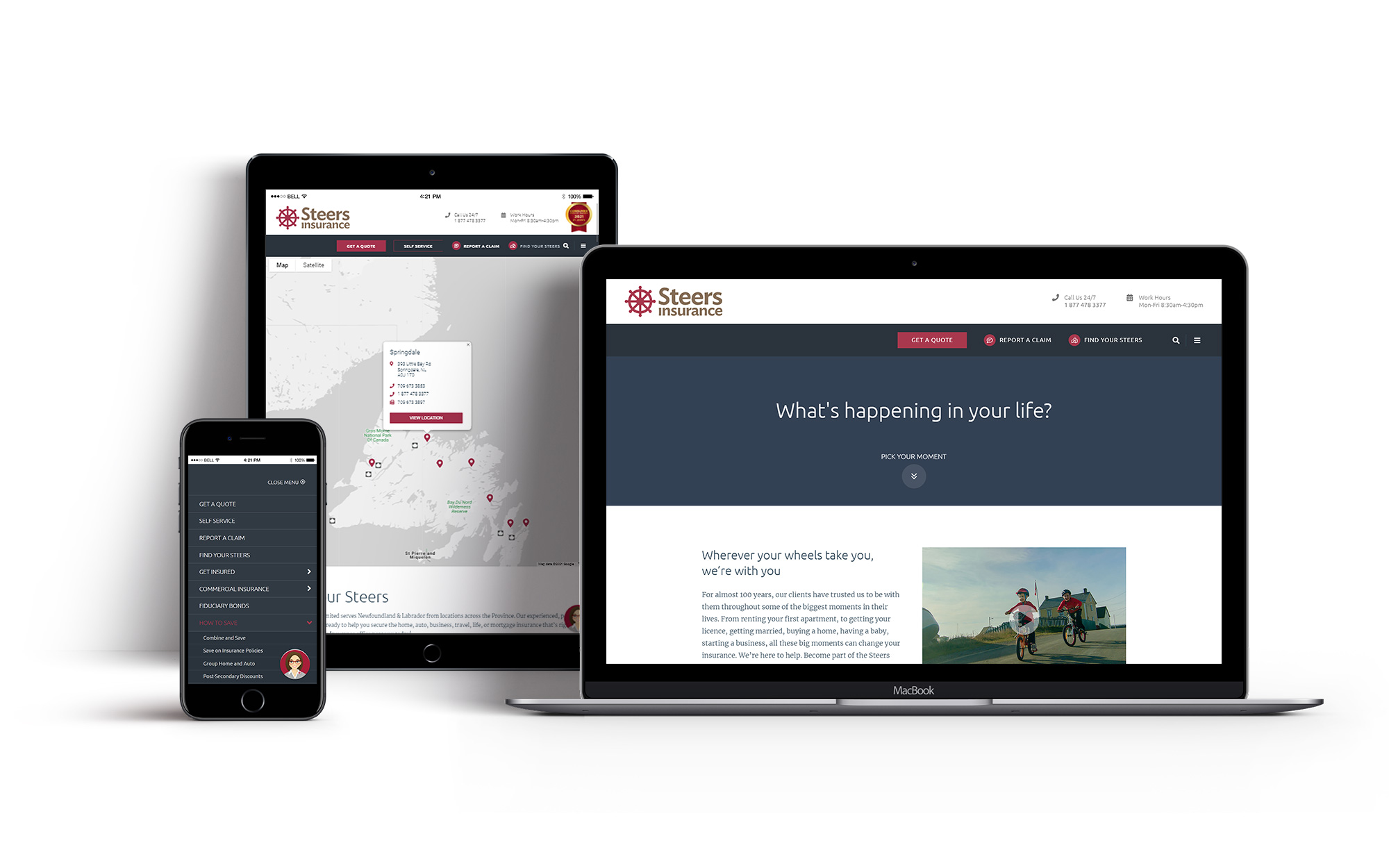 We're dedicated to building smart strategic solutions.
Ready to see what we can do for you?
Services + Sectors