Branding + Identity
Branding is more than just what your logo looks like. Your Brand Identity reveals your personality, tells people who are you, and what you believe in. It's everyone's first point of contact with your brand, and influences how they feel about you.
Marketing and Digital campaigns matter a lot, but you can't do them without strategic branding.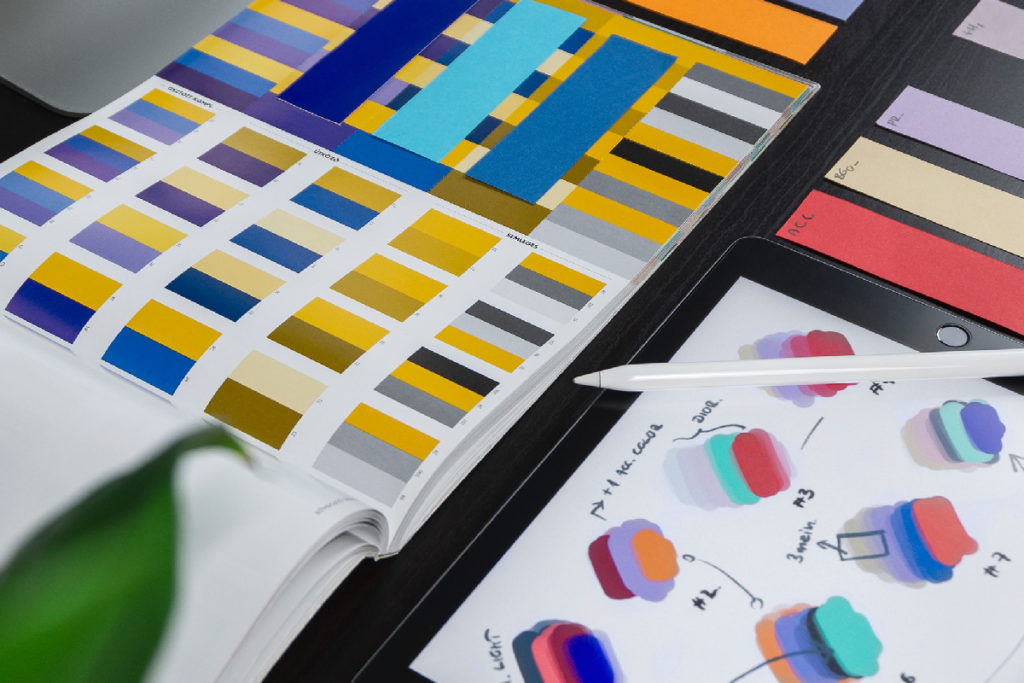 Studies have shown that 8 out of 10 people around the world will only choose a brand, product or service that they trust, but trust is not built overnight.
Trust is built over a long period of consistently delivering relevant & authentic messaging, appealing design, and brand experiences (offline or online) that delight and inspire people.
Over the years, we've worked with numerous clients to help them conceptualize and create brands from scratch, design their identity elements, craft their personality, and bring them to life throughout numerous mediums.
Our best collaborations have resulted in stronger brands that resulted in greater trust from our target audiences.
Brand Foundation
Building a brand starts with a clear understanding of the basics.
What product or service are we offering? Who are we offering them to, and what problems are we trying to solve? Who are we in the lives of our target audience? What do we want them to feel when they first see or hear about us?
We can help you define all these, and together, develop a brand people will love.
Research
WaterWerks believes in strategy behind creativity. That's why we build a solid foundation of knowledge from a firm understanding of you. We detail aspects of who you are and how you're unique to where you want to be.
These insights — combined with a decades deep portfolio of experience — provide a clear direction to bring the strategy together with creativity and spark human connections.
The future is here; it's where your brand belongs.
Focus Group Discussions
At the core of every brand is its target audience — the people whose problems they aim to solve. But these days, tons of other brands & companies are also vying for their attention. Focus Groups allow us to dig deeper and get to know them better, understand what matters most to them, and what their most pressing pain points in life are today — all with the goal of uncovering new insights that will help shape and differentiate our Clients' branding strategies.
Brand Name Creation
Before anything else, your brand name will be the first thing that people will read or hear. Then they decide if they want to take the relationship further and find out more about you, or not. When we give birth to new brands, we christen them with names that are distinct, meaningful, authentic, and spark an instant connection with our audiences.
Logo
Design
If your brand's name is the first thing people read or hear, your logo is the first thing they see. First impressions are everything, and 10 seconds is all it takes for people to form an opinion about your logo – and by extension, your brand. When we create and design logos, we design with that first point of visual contact in mind, and aim to leave a memorable first impression.
Taglines + Slogans
Taglines and slogans play a very influential role in helping people decide on which brands, products or services they should choose. Our team's diverse experiences, coupled with our collective love for words – enables us to work together to come up with creative, well-crafted, evocative, and memorable taglines that capture people's attention & imagination.
Unique Positioning Statement
(UPS)
In the era of information and marketing overload, your brand needs a competitive edge to stand out from the clutter. We can work with you not just to find your brand's most viable point of differentiation, we'll also help you craft a relevant & unique brand positioning statement that will meaningfully connect with target audiences.
In essence, it is not what it looks like but what it does that defines a symbol.

– Paul Rand
Brand Digitization
Everything today is digital, and brand should be too. Rest assured, our multi-disciplinary Digital team has you covered. We'll digitize your presentations, email templates and signatures, and more. We'll also help you build out a robust and strategic digital footprint from your website, social media profiles, brand videos, and content.
Branding Guidelines
Research has shown that consistency in how a brand is presented across channels can potentially increase revenue by as much as 23%. Branding Guidelines, a.k.a Brand Book, is a tool central to your branding strategy, and contains all the elements that make up your brand: from its personality and values, its visual identity, taglines, slogans, and more.
logo
packages
Numerous studies have shown that a logo is the most recognizable identifier of brands & companies, with 75% of people saying that they recognize a brand most by its logo. This highlights the importance of ensuring that however it is applied in any marketing, communication or collateral material — your logo remains consistently used, and shown in its best light.
Collateral Materials
90% of consumers today expect to experience a brand consistently on all points of contact. So whether it's banners or posters in your stores, booth designs for trade shows, instructional videos or others – our team has the expertise to translate your brand identity to any format in the best way possible.
Good brands exist;
Great brands inspire.
Case Studies
Branding + Identity
We're here
for you.
WaterWerks has a long history of building long term relationships, both internally and externally.
From team members that have been with us for over a decade to clients that have trusted WaterWerks for even longer, we're proud of the work we've all accomplished together.
Ready to work with an Agency that cares about you as much as they do the project?
We're excited to see what we can build for you.
WaterWerks Agency96 LeMarchant RoadSt. John'sNLA1C 2H2 Canada